What Makes a
True Commercial Umbrella?
A true commercial umbrella is not just an outdoor umbrella in a commercial setting, it's a unique shade structure built with
commercial applications in mind.
With over 20 years designing and manufacturing umbrellas for commercial use, we've identified some of the key things to look for to help you select a good product that's worth the investment.
A high Engineer Wind Rating ensures your umbrella will be secure and safe in harsh weather, and continue to do its job after the event, but it's also an indicator of the quality and likely long-term performance of the product in all conditions.
To withstand winds over 100kph, along with good design, an umbrella must be appropriately anchored and reinforced, and therefore constructed from heavy duty structural materials that will endure outdoors. Weighing between 150 and 400 kg these types of umbrellas are serious shelter options, chemically secured and bolted to permanent footings, and just as prepared for the conditions of when you're not using it, while handling normal everyday use with ease. Having to cater for a variety of environments, with the right care and a little maintenance, these types of umbrellas are built to deliver superior performance, and longevity.
Engineer Wind Rating (EWR)
"While no one wants to sit poolside in a storm, they don't want to be hit by a flying umbrella either…"
For the more lightweight portable commercial umbrella, an EWR reflects the performance in the conditions where it was intended to be used – and foremost that's in winds of 0-30kph.
The lower your umbrella's EWR, the sooner the umbrella will be shaking, flapping and generally unpleasant to sit under, and well before it reaches it's rated limits. We engineered our Café portable umbrella to 60 kph because that's what we believe is required for stability and comfort on the windiest day when you're likely to be using it. You'll also have ample time to retract your umbrella in changing conditions, well before any damage can be done.
An Umbrella wind rated at 150kph is rated for winds in a category one hurricane – That's widespread devastation. An umbrella rated at 60kph is where you'll be having difficulty walking into a strong headwind.
If you want to leave your umbrella open permanently, a higher wind rating will deliver you a better long term product regardless of your weather conditions.
Talk to us about which is umbrella is right for you
Horizon, Sunset, Typhoon
(Centre Column)
Internal Tensioning Systems
As with anything you leave outdoors permanently, sun, wind, and rain, impact on the integrity of the product over time. To combat this a good commercial umbrella will not only be constructed of corrosion resistant, all weather materials, but if it's built to last, it will have a properly tensioned canopy.
We tension our commercial umbrellas via a series of steel cables that run the perimeter seams and arms of the canopy, secured in place with anti-creep fixings. The cables work to reinforce the structural integrity of your umbrella, helping to retain the canopy's shape and resist the weather.
A true commercial umbrella will always incorporate tensioning in some form, but internalised tensioning is optimal, as it is protected from the weather, and has the added advantage of delivering a cleaner design by eliminating the visible support cables undercover
With the larger freestanding commercial umbrellas providing coverage around a phenomenal 20-25 SQM, an appropriate retraction system is crucial for safety and ease of use. If you're deploying your umbrellas everyday, it's worth investigating functionality, as larger umbrellas will often require the fitting of additional heavy equipment and more than one person to operate them, This can the make operating the umbrella difficult in changing weather, and an extremely time consuming task for staff to manage everyday.
"So easy to use a child could do it, but so cleverly designed that he doesn't."
Our Sunset and Vista retractable umbrellas are fitted with our proprietary internalised gearing system, which makes the hand operated via a detachable handle. Removing the handle prevents any unauthorised use, and swiftly deploys and collapses the canopy whatever the weather.
An automated motorised remote option is also valuable for mobilising multiple umbrellas simultaneously.
Over the years we've tested dozens of fabrics in a multitude of commercial and industrial environments, so for us and architectural grade PVC, was an easy choice.
A high quality PVC also offers a stylish, but low maintenance finish. Vibrant colours with great fade resistance, combined with antifungal and flame retardant properties ensure excellent longevity and easy owner care.
If possible, choosing a fabric that is waterproof is valuable to extend the use of an umbrella as a shelter. Many commercial models are compatible with rain channels and guttering for year round use, and being waterproof eliminates any issues of the canopy rotting or becoming saturated and transferring water.
Above all, the canopy fabric should deliver user comfort and safety, with high levels of heat reflection an UV resistance.UPF ratings of 50+ ensure there will be no concerns of your customers being comfortable and protected from harsh UV, and extensive options of translucent and block out, adjust the filtration of light so if you're already in a partially shaded area, it won't be too dark, during the times it's not sunny.
Floral was great in 1979… but today you'd like white?
While our umbrellas are built for long term performance, we also understand there may come a time, especially in the commercial space when you want to refresh your the look of your establishment. To accommodate this we've modified the design of our umbrellas so that they can be "reskinned" with a new canopy, and your old canopy can be recycled.
Without quality what use is good design?
We love creating shade solutions to give respite a hot sunny day, or shelter from the wind and rain, but we also want to leave the world a better place than found it. That's why we carry parts for every umbrella model we've ever made because we promote the long term maintenance, (by us or you), of our umbrellas. After 20 years that's a lot of parts – but for us it's about investing in producing quality. With a just little care, we can show you how to get a lot more out of your investment.
How many waiters does it take to change a light bulb?
…usually only one good one, but they'll all be keen to see your umbrella's got lights, and so will your customers. Encourage 5 o'clock drinks to turn into dinner at 8, and if it's getting a little chilly out, just switch on that umbrella heating. 
Heating, lighting, cooling, and rain gutters, should all be amongst the compatible standard accessories to enhance your customers' experience, and make your outdoor space as usable as frequently as possible. For the professional installation request accessories at point of manufacture.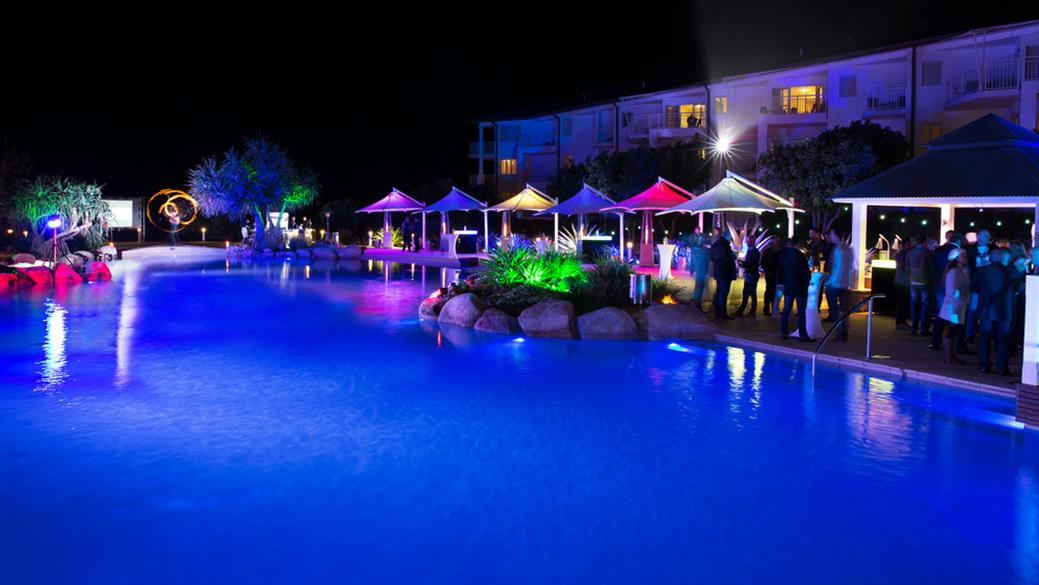 Interested in a Commercial Umbrella?
Download our brochure or get in touch